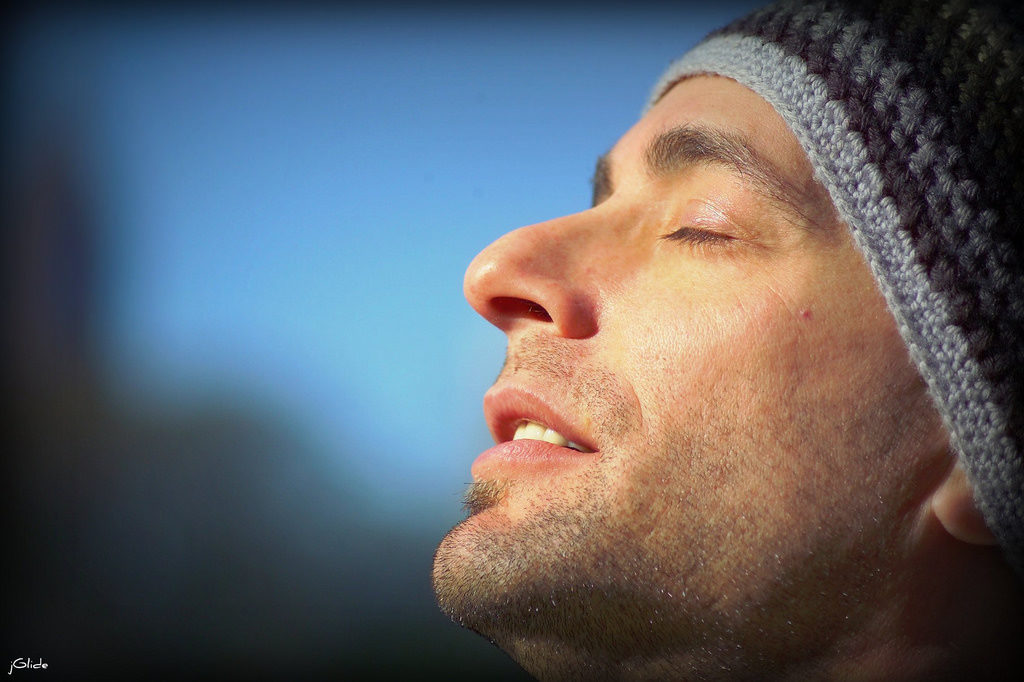 No matter how bad things are going, there is usually something small you can find to be grateful for.
When I was in my early 20's I often suffered from depression. I remember a dark time when nothing seemed to be going right. It was a gloomy day and my mood matched the weather.  I was out of money, my relationship wasn't going well, and my self-esteem was suffering because I was sure I was too fat. (I wasn't.) A typical student, I was living on coffee, eating poorly and not getting enough rest, none of which helped my mood.
I was a sophomore at UCLA, a great school, but a big and very impersonal campus with more than 30,000 students. Feeling lost and anonymous, I had just finished sitting through yet another lecture in a class with 200 other students, none of whom I knew. Young and discouraged, I couldn't imagine anything ever getting better. As I walked to my car I kept thinking, "What's the point?"  It's difficult for me to admit this today, but in that moment I couldn't see much reason to keep on living. The fact that I didn't have the courage to do myself in became just one more reason to be depressed. I was completely pathetic. I collapsed into the front seat of my old clunker car and I began to sob.
Then something miraculous happened. Through my tears my attention was arrested by the sudden appearance of  hundreds of tiny rainbows shining all around me. I was fascinated. I'd forgotten I was wearing a t-shirt with a few rhinestones. The sun had broken through the clouds and happened to shine on my shirt at just the right angle to transform the fake jewels into mini-prisms. Vivid colors were dancing everywhere around the dark interior of the car.  Suddenly I was like a 5-year-old experiencing her first rainbow and it was delightful.  So beautiful!  Rainbows!  Appreciating the beauty of the rainbows had broken through the spell of gloom and doom. Rainbows were the reason to live.  No matter what else was going on, I could still appreciate the beauty of a rainbow and that was enough.  In fact it was quite a lot.
I didn't know it then, but I had just experienced the amazing power of Micro-Gratitude. You see, gratitude and depression are incompatible. You literally can't feel them at the same time. Whenever you experience appreciation or gratitude you actually change your biochemistry.  Gratitude initiates a cascade of chemicals washing through your brain and body. Chemicals that are good for you, and not just for your mood but for your health.
Micro-Gratitude, How to Feel Better Instantly
As you may have noticed, it isn't always easy to feel thankful. That's where Micro-Gratitude comes to the rescue.  No matter how bad things are going, there is usually something small you can find to be grateful for. Try it right now. See if you can find the most humble, ordinary thing to appreciate and focus on that for a moment.
Yes, right now.  I'll wait.
Gratitude is more than a thought, it's a physical experience.
It's easy to forget that gratitude isn't just a thought.  It's a physical feeling. I invite you to take the next few seconds and instead of just thinking you are grateful, really feel the appreciation for those small things you notice. For me this usually feels like "something" moves out of my head and into my heart creating a warm feeling in my chest. Sometimes it helps to close my eyes and to take a few deep breaths.  Try it yourself and notice the physical changes in the way you feel.
Make Micro-Gratitude a practice.
You can even have fun with it.  Have a Micro-Gratitude Party every Thursday on social media. Invite people to share their Micro-Gratitudes. The challenge is to find the tiniest most humble things to appreciate.  I sometimes run a Micro-Gratitude contest on Facebook. Past entries have included dirt (think about it), hot running water, and toilet paper. Sometimes we have a theme.  Blue. Liquid. Invisible.
Please join my Micro-Gratitude Movement
Become an Ambassador from the State of Gratitude. You can begin right now by posting a comment about the small things you are able to appreciate in this moment.  If you do, I will be very thankful.